Apple recently had request from a customer who wanted to visit a school that had been using iPads for more than a year. Of course it was not possible – as the iPad only came out 12 months ago!
Remember Learning 2.010 last September? Schools were beginning to purchasing the odd one or two to explore. We envied our colleagues who bought along their new toy! Fast forward to this September…I wonder how many schools coming to Learning 2.011 have now purchased class sets and can't live without them? I wonder how many cohorts will look at iPads and mobile devices? I wonder how many workshops will explore iPads and apps? And most important of all, how many participants will turn up with their brand-spanking new iPad2?
So here is our challenge with Learning 2.011. How can we put on a conference that is relevant, flexible, adaptable and responsive to the needs of the participants?
What we think we know is this – that over 400 educators will attend the conference.
What we don't know as yet is who these 400 participants are and what they want to learn more about.
So here is our game plan for building Learning 2.011:
On sign up we ask participants to select a cohort (in fact we ask participants to choose up to 3) and the grade levels that they are interested in.
On June 1, we hope that most participants will have taken advantage of our early-bird registration fee so that we can work out which cohorts are viable, which are not and which can be divided up into upper, lower and even grade level groupings. Then we look at our pool of cohort leaders and match up the leaders to the cohorts.
So what about the cohort leaders? We have a small group of cohort leaders mostly from outside the region booked and confirmed – inspirational educators who are in high demand in their home countries. Then, mostly from within our region, we have a wonderful group of  highly-respected, extremely-experienced, talented and exceptional leaders, all of whom have been nominated by their peers, who have accepted our invitation on the understanding that we can match them to a cohort.
Workshops and Presentations
But that is not all – the cohort model is only one feature of the conference. In addition we will be running presentations, workshops and mini-keynotes. Again, we have to be flexible and responsive to the needs of the participants. We have surveyed individuals in schools to find out what they want to learn and we have asked participants to share the learning that is happening in their schools by offering workshops and presentations.
'Unconference'
And then we have the 'unconference' session – an empowering, just-in-time 'tool'. It allows for us to be curious and spontaneous in our thirst for knowledge. It enables us to seek out others to share and discuss learning.
So what do I ask of you?
Please join us for Learning 2.011 and help us build the best conference by registering by June 1 so that we can create the best experience for you and your colleagues. And why not submit a presentation or workshop idea and engage more deeply in the conference by sharing your experiences?
Once again, please note that Learning 2.011 is organised by educators for educators. The organising committee is a volunteer group of dedicated educators from international schools in Shanghai and Beijing.
If you have any questions, feedback or suggestions that will contribute to the success of the conference, please email me or one of the committee members such as: Chris McAnally – SCIS (chair), myself (vice-chair), Melinda Alford & Mike Boll (Concordia).
Learning 2.011 runs from Thursday evening September 8th until Saturday evening September 10th and will be held at Shanghai Community International School's Pudong Upper School Campus (SCIS).
At Learning 2.010,  the more you put in, the more you get out. It is a place where you make connections and develop your personal learning network. It's about you finding out what you want to learn and then how and where to learn it.
In the First Steps cohort, our aim was for participants to walk out with a digital shared space which contained: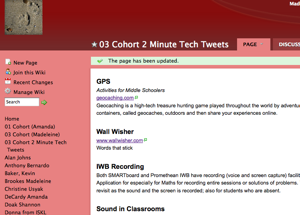 1. A vision for how they want to change their classroom/community
2. A practical action plan/road map on how they might get there
3. An expanded Personal Learning Network which may include a mentor for guidance
My cohort was a very diverse range – as is always that case with any group of educators – ranging from low to high technology skills; high school to kindergarten, arts to science, tech integrators to tech beginners…all highly professional and all experts in their own fields. Wow – what a bunch!
Did we achieve the goals? Absolutely, the majority of the cohort not only developed (collaboratively) their road maps, but also published online and linked up with a co-mentor. Here is the amazing array of goals, each one leading to a unique road map/action plan:
For me, it was a huge learning experience and one of the best professional development experiences I have ever had. From the onset, being invited to be one of the cohort facilitators was a major achievement but also one of the most daunting and terrifying experiences. Two days before the conference, we came together from places near and far. For 48 hours, we talked, discussed, planned and bonded and become a community of cohort facilitators. The second 48 hours, we then formed a community of learners with our cohorts. In 4 days, 450+ people came together as the Learning 2.010 Community.
Thank you to my cohort team: Amanda DeCardy (SAS), Michael Boll (Concordia) and David Elliott (ex-HKIS) the First Steps team. We planned, we discussed, we bonded and it was an awesome ride!